The exponential growth of Video-Based Content (VBC) for branding, lead generation and ongoing customer communications is widely recognised and undisputed. Countless reports, thought leaders and articles spotlight the same trends:
HUBSPOT – Content Trends Survey
Hubspot reports that video is now the #1 form of content that customers "want to see from a brand or business" that they support.
CISCO
Cisco predicts that internet video traffic will grow fourfold between 2016 to 2021 and that it will take you more than 5 million years to watch the amount of video that will cross global IP networks each month in 2021.
FORBES
Recognising the continued rise of smartphones, Forbes reports that the "mobile consumption of video content continually rises by 100 per cent annually".
"Video does what text doesn't. It creates an immediate, real and authentic route of interaction and connectivity with audience members, who can often provide reactions and comments in real time." (Forbes)
Popular, powerful and versatile as it is, for video to realise its full potential large enterprises must become capable of creating personalised videos dynamically at scale.
The future is not about creating a single video for, say, 10 million customers. Instead, enterprises will make ten million versions of a video – one for each customer, with personalised content. Moreover, once the videos are produced, the advantage goes to companies that distribute them instantly, successfully and cost-efficiently via a plethora of communication channels (emails, apps, SMS, MMS, HTML, to name but a few).
The seamless mass production and multichannel distribution of literally millions of personalised videos are beyond the scope of many companies today due to technical, logistical, financial and organisational barriers. If your large enterprise is one of them, you may find it helpful to know that this capability is a crucial component of iLiveIt's Customer Communications Management (CCM) platform, which offers a radical suite of software and managed services to help enterprises deliver hyper-personalised customer communications and experiences at scale.
Rapid Dynamic Personalised Video-Personalisation (RDVP)
Rapid, Dynamic and Personalised Video-production (RDVP) is the term we use at iLiveIt to describe the process of creating millions of personalised videos and distributing them via multiple channels in a matter of hours. Why RDPV? Because the process needs to be:
RAPID
Large enterprises cannot spend days or more making personalised videos at scale.
It is also not an option to take further days or weeks distributing videos through multiple channels (each with their own technical parameters).
For Video-Based Content to reach its full potential, production and distribution need to be lightning fast with seamless integration to immediate omni-channel distribution.
DYNAMIC
All personalised scenes must be created or composed dynamically by automated software.
This ensures that the overall video production process is rapid and cost-efficient.
Videos come in many forms and have many applications. Dynamic video composition processes, therefore, need to be versatile, flexible and supportive for creative teams so that videos stay fresh, not formulaic.
PERSONALISED
The personalisation of content in any form, not just video, is the key to making customer correspondence more engaging and relevant.
Personalisation is relevant during the customer acquisition stage but comes into its own with existing customers in industries where customer insights are generated and stored in a wide range of customer data sets. Personalised videos must leverage this data to create content dynamically.
VIDEO-PRODUCTION
Video production processes need to be connected and seamlessly integrated with distribution platforms.
Instantly each personalised video is composed, rendered and compressed, it can seamlessly begin its onward journey to the customer, whether that's:
Direct Push: e.g., a Super-Compressed video sent directly via MMS
Pull: links to HTML initiated from SMS, emails, in-app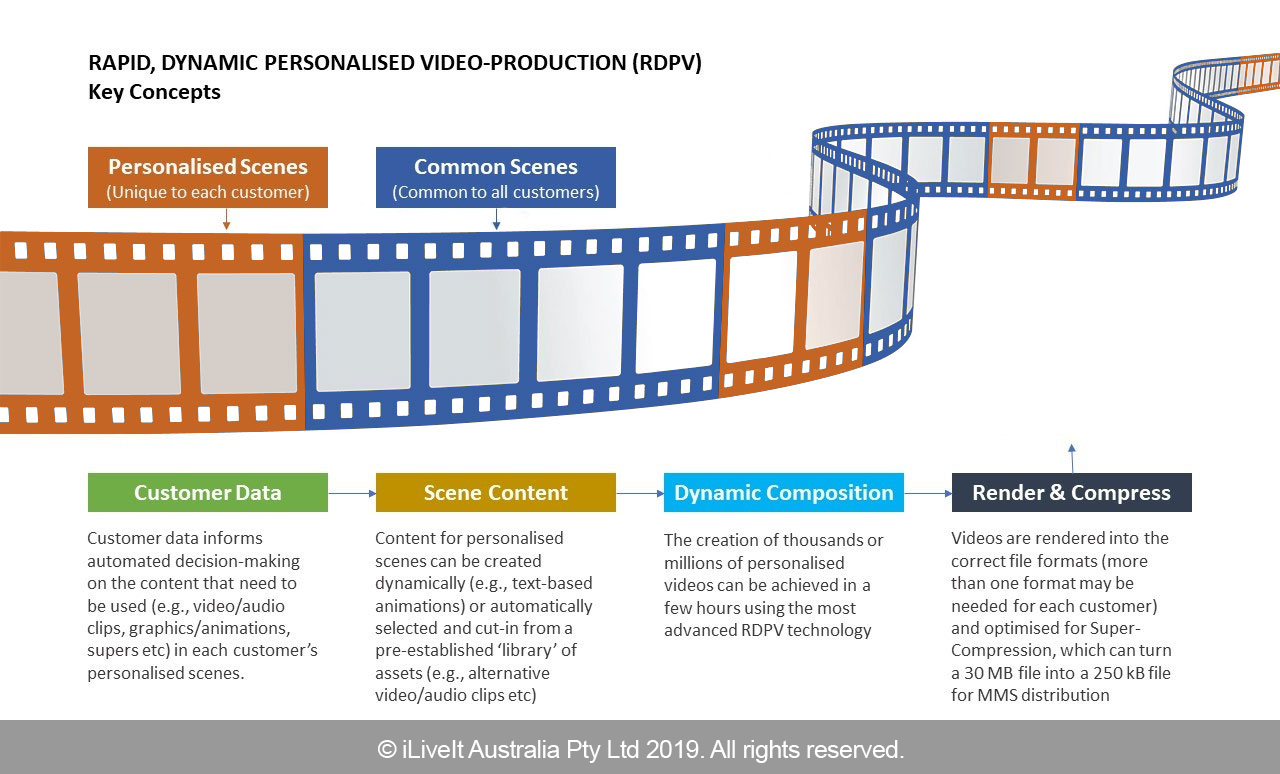 Application and Benefits of RDPV
Unfortunately, many people think of video-personalisation as the task of inserting the customer's name into the video somehow, such as through a super or more sophisticated technique. While personalised greetings can play an important role, demonstrating to the customer that you know his or her name is merely a baby step towards personalised videos at their best. Many other things can be done, such as:
Personalised Onboarding Videos
These videos often accompany Onboarding Information Packs/Kits sent to new customers either digitally or through the post.
Particularly useful in information-heavy industries, such as insurance and telcos, a personalised video can be used to remind the customer of the most critical aspects of the product or service that they just purchased, with reminders on some essential tasks that they may need to take care of immediately or in the future.
Onboarding or welcome videos can also add a personal touch to premium services in sectors for high-net-worth individuals or for other industries where personal service and customer-recognition is highly valued (e.g., car dealerships)
Personalised 'How-To' and Explainer Videos
Maybe your customers have problems understanding their bill and what drives it. Or perhaps you notice that your customers would get more benefit from your product if they changed the way they use it. You may even have products that could benefit from a personalised explainer video.
Personalised educational videos can be helpful for both you and your customer – everyone wins.
New Customer Experiences
Have your customers become so familiar with the invoicing and account statement processes that they barely look at or read them? Why not try presenting routine bills and account statement updates in a personalised video that provides an overview of the essential data/costs and also comes with links to simple and secure online payment portals?
Product Upgrades/Cross-Selling/Upselling
Improve the relevance of Upgrade / Cross-Sell promotions by optimising messaging and featured products or services for each customer.
Importantly, don't overlook the value that may be created by informing the customer that they may benefit from switching to one of your less expensive products or services, such as a telco customer that is on a package that is far too large for their requirements. (If you don't tell them that they might find a bundle-change valuable, it may only be a matter of time before they figure it out with one of your competitors.)
Notifications & Product Launches
Need to notify your customer of an important announcement, or announce some important news? Why not send them a personalised video by MMS so that they can watch it immediately on a smartphone?
By using an integrated Customer Communications Management platform (CCM), it is super-simple for customer service centre employees to find, retrieve and view every individual personalised video that your company creates and sends. Simple and obvious as this is, many customer service centres cannot immediately access outbound customer correspondence, especially multimedia experiences. With iLiveIt, this functionality is straightforward. Which files can be accessed and by whom can be controlled and monitored.
Lowering the Cost of Storage and Archiving
When you make a single video to be viewed by millions of customers, it doesn't cost much to store. When you're making tens or even hundreds of millions of personalised videos, and they form part of your customer communication programme, long term may be necessary for legal compliance and good governance, and the cost of storage can add up. That's why you need video production software that's optomised for Super-Compression. iLiveIt's composition, rendering and super-compression software can reduce 30 MB video files to 250 kB files with while retaining quality standards suitable for MMS distribution. For large enterprises making personalised videos at scale, Super-Compression saves potentially millions of dollars on the cost of storage and archiving.
For video-based content to realise its full potential, enterprises will need to produce and distribute millions of personalised videos often and routinely. To do so requires rapid and dynamic technology that connects video production processes to customer communication processes in every channel.
At iLiveIt, Rapid, Dynamic Personalised Video Production is one of our greatest strengths, and all videos can be distributed securely on our smart, omnichannel Customer Communications Management platform.
Our software and managed services are highly flexible, so give us a call to find out what they can do for your business.
Advertising Agencies and Digital Marketing Service Providers may also like to know that we provide transparent back-end services to you and your clients. So, if you want to run a campaign featuring personalised video but lack the production and delivery infrastructure, we would love to help out.
Request More Information On
What RDPV Can Do For Your Business
We are happy to provide some examples and answer your questions.
Riaan Groenewald
Chief Operating Officer
iLiveIt Australia Pty Ltd
Tim Eldridge
Chief Marketing Officer
iLiveIt Australia Pty Ltd