Turn routine correspondence into moments that drive sales and satisfaction.
In many industries – especially telecom, banking and finance, utilities, ISP's, loyalty programmes and insurance – routine correspondence like invoices, statements and notifications is sent to customers every month or quarter. Despite receiving dozens if not hundreds of invoices, account statements and notifications from all kinds of companies every year, the average consumer would be hard-pressed to think of a single one that stands out as more interesting, more helpful, more informative or more engaging than the others.
How can this be? After all, is there not a focus, these days, on turning customer touchpoints into magical moments that drive sales and satisfaction?
If customer retention is so important – and we like many others believe it is – then why are account-related touchpoints – like bills, account records and renewal notices – so generic and bland?
If you were to spread a collection of regular account statements or invoices on a table-top, most of them would be distinguished only by the use of different logos, colours and fonts. Worse, some are likely to be hard to read, and it's surprising how many are difficult to understand (particularly some of the lengthier and more complex ones sent be by telcos, ISP's and financial services providers).






"Why are account related touchpoints – like bills, account records and renewal notices – so generic and bland?"
In our experience, when we come across routine account-related correspondence that is lacklustre or confusing,  usually it's because the infrastructure that corporations have in place to support its creation and distribution is incapable of meeting the expectations of modern consumers and the needs of contemporary businesses.
Fortunately, it's easier, faster and cheaper than you may think to switch from a clunky legacy billings and account statement system to a smarter and more agile Customer Communications Management (CCM) platform that transforms 'ordinary' correspondence into fresh and engaging experiences that drive sales and satisfaction.
More importantly, brands that don't make this shift now may regret it later, because the chances are that the migration to advanced omnichannel CCM platforms has already begun in your industry, and switching brings with it the ability to create highly-relevant, personalised, multi-media touchpoints suitable for delivery via any channel, form or device.
Put another way, if your customer correspondence is generic or suboptimal, now's the time to review your CCM strategy and capability.
Disrupting Rigid, Clunky Legacy Billing and Account Statement Systems
Legacy, old-fashioned systems used to create invoices, statements and other routine, account-related correspondence can be surprisingly uncooperative and limiting. Often they rely on templates designed in a previous era by organisations that understood spreadsheets better than people.
There's nothing wrong with a good template, of course, providing that it has been created using design thinking and functional aesthetics. Many large organisations know that their customer correspondence systems for billings and account updates are sub-optimal. There's no lack of desire to improve customer experiences. Most companies see opportunities for their correspondence with customers to be more relevant, more engaging, more personalised and to feature more visual, more interactive and more video-based content. The problem – the barrier to progress – is that legacy systems for customer communication are often overwhelmingly tricky to change, improve or upgrade.
Often that's because change involves a large number of internal stakeholders and systems. For example:
Sales and marketing are involved because customer contact affects brand experience and should generate sales leads.
IT is involved because decisions concern IT infrastructure and systems integration.
Finance is required because any changes made will impact past and future investments.
Billing and customer service is involved because they're at the core of everything in discussion.
Moreover, these are just internal stakeholders. Externally, legacy billings and customer contact systems can involve a host of vendors such as mail houses, email platform providers, SMS and MMS channel specialists, PDF production services, customer service support systems and so on.
Consequently, any desire to upgrade the quality, modernity and creativity of customer correspondence quickly turns into big, complicated and expensive change-management projects with a stack of systems integration issues.
Upgrading to a More Contemporary, Flexible and Cost-Efficient Omnichannel CCM Platform
Contemporary CCM service providers offer integrated, all-in-one platforms that enable enterprises to create highly personalised and engaging customer correspondence and experiences in virtually any communication channel or format, optimised for pretty much any device.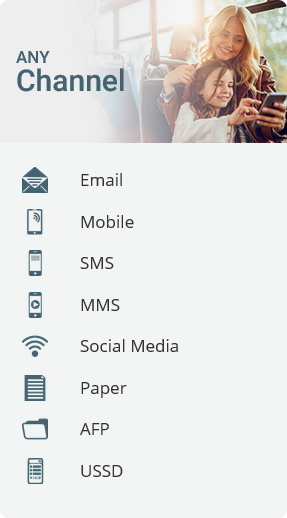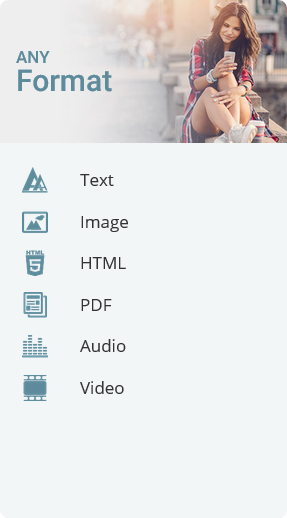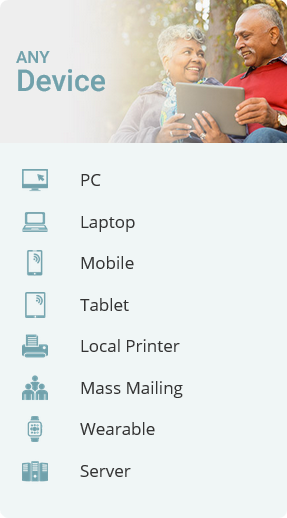 Not your parents billing system – modern Customer Communication Management Systems offer a turnkey solution for the creation of more contemporary and personalised customer experiences.
Access to such a system opens up a host of new possibilities for teams charged with responsibility for customer experience and routine correspondence like invoices, account statements, notifications and reminders, product information and so on:
From Aesthetically Challenged Documents to Engaging Layouts Inspired By Design Thinking
Today advantage goes to businesses that use design thinking to create aesthetically pleasing presentations of account related information and to visualise the most valuable data – perhaps using engaging, personalised infographics – for maximum impact and functionality.
Modern CCM platforms make this easier to accomplish because they are far more flexible than rigid legacy billing systems, and offer far more creative ways to embed and display personalised content.
Use Customer Data To Embed Personalised Information, Offers and Messages
You'll always know more about the habits, practices, behaviours and needs of existing customers than prospects, because of the information available in your customer data. Why not use this data to embed highly relevant and valuable personalised content within otherwise very uninspiring correspondence like invoices, account statements and notifications?
Educational
Add explainers – including personalised videos – with content that helps customers understand their consumption or usage habits and what's driving their bills.
Upsell & cross sell
Promote products and services that, based on customer data, seem likely to 'fit' with your customer's needs and requirements or that might meet their needs better than the products and services they're using now.
Renewals & Upgrades
Start the dialogue early on contract renewals and open up discussion on opportunities to extend or upgrade by embedding personalised content and messages into bills and statements at just the right time.
These opportunities are realised by creating highly flexible and agile templates that can easily accommodate 'white spaces' where personalised content and messages can be automatically generated and embedded dynamically at scale
Give Customers More Options and More Control Over How They Receive Information
It's one thing to migrate from paper to email. It's quite another to offer customers the option of receiving account information in virtually any channel. A high-quality CCM platform makes it easy to do so:
How would you like to receive account statements and notifications?
By post
By email with a PDF attachment and secure links to my private portal
By SMS or MMS with secure connections to my private portal
In-Ap
Upgrade to Contemporary Multi-Media & Multi-Channel Experiences
Old fashioned billing systems make it hard if not practically impossible to create contemporary customer experiences – such as personalised videos sent by MMS. Smart, modern CCM system, however, make it simple to achieve.
Reduce "Unreceived" Correspondence Using Failover Plans
Some correspondence is more important than others. With an omnichannel platform, failover rules are easy to set up, so that if an email doesn't get through – such as when the recipient's storage allowance is fully used – the CCM platform automatically sends an SMS or MMS -or both, one before the other.
On vital, contractual correspondence, it may also be helpful for the CCM platform to automatically trigger a phone call from your customer service centre.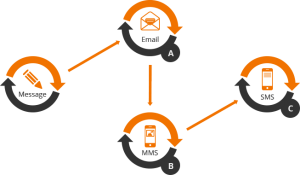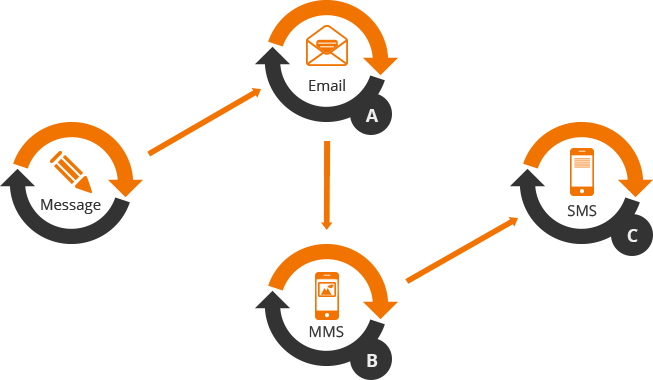 Multi-channel failover planning improves communication campaign performance
Connecting the Silos. Archiving, Retrieval and Customer Service Support
When they call into service centres, customers are often surprised if not dismayed to discover that telephone support teams may not be able to see or retrieve the emails, letters and SMS or MMS notifications sent to them. This is frustrating for customers and less than ideal for the employees attempting to serve them.

Modern CCM systems should ideally integrate with customer service centre systems so that approved employees have on-demand access to the actual documents or digital experiences that your customers have received. Easy record retrieval can make a big difference to the customer experience when they call in for help, support, advise or problem-solving.
Routine correspondence like invoices, statements and notifications sent to customers regularly play an essential role in the customer's overall experience of a brand or company, and yet so many of these documents and touchpoints are bland, lacklustre and sometimes plain confusing.
Often it's hard for companies to change this, because the systems in place to generate such documents are old, inflexible, expensive to modify and complex to manage, especially when a large number of internal teams or external vendors are involved.
Switching to a smart, contemporary Customer Communications Management (CCM) platform offers massive potential to upgrade these touchpoints and strengthen customer experiences, which can have a significant positive impact on customer satisfaction and loyalty.
All CCM platforms are not the same. To learn more about the iLiveIt smart CCM platform, reach out to us.
Request More Information On
Upgrading Account-Related Correspondence Using a Smart CCM Platform
We are happy to provide some examples and answer your questions.
Riaan Groenewald
Chief Operating Officer
iLiveIt Australia Pty Ltd
Tim Eldridge
Chief Marketing Officer
iLiveIt Australia Pty Ltd