A new era of super-compressed multi-media documents and personalised videos has arrived
Modern consumers have neither the time nor the inclination to read large volumes of text (even when it is broken up with pictures and contains helpful information).
Instead, today's cut-to-the-chase, give-it-to-me-quick world favours the visual presentation of data using engaging infographics and succinct, tell-it-as-it-is explainer videos.
There are times when a single infographic or video is relevant to all customers. But with the increased focus on improving the relevance of customer communications, personalised videos and infographics are now being generated at scale.
Unfortunately, given that short videos can be 30 MB or more in size, an exponential increase in the volume of large multimedia files in use brings with it a significant cost for distribution and storage.
Moreover, the cost of managing large files is far from the only problem:
Nothing fails faster than slow-to-load files
Large multimedia files generate disappointing customer experiences when poor quality internet connections, sub-optimal software and sluggish devices are involved.
Time to market
Rendering and distributing tens of millions of personalised videos and multi-media interactive files takes many hours, days or even weeks to process because the files involved are so large.
The answer to these challenges lies with new file rendering and compression technology – using software to reduce file sizes.
However, more often than not, file compression brings with it the spectre of significant lost quality, and no one, least of all the recipients, wants grainy or pixilated videos.
So how do you go about radically lowering rich media files with only minimal loss of quality?
We spent a lot of time pondering that question at iLiveIt, resulting in the creation of unique and extraordinary file rendering and compression software.
Re-imagining Rendering and Compression Software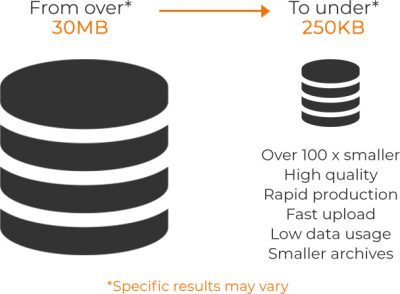 Our developers didn't just write code; they re-wrote the rule-book on how to approach file compression from a software standpoint.
We'll spare you the technical details, which we are unable to share for commercial reasons.
What matters most is this – we can now compress large communication files like videos and graphics intensive documents from over 30 MB to under 250 kb with a quality-loss barely noticed by consumers using smartphones and tablets.
Indeed the quality loss is even acceptable for standard-screen laptops and desktops too.
Benefits Of Super-Compressed Videos And Graphics Intensive Files
Our unique rendering and compression software packs high-quality, personalised videos and PDFs into tiny file sizes
– often over 100 times smaller than the master – so that they:
Can be mass produced at scale rapidly
Rapid mass video production is a vital capability for organisations as we move to a new era of delivering ongoing hyper-personalised communications and experiences.
Are lightning-quick to send at scale
Execute campaigns faster and complete processing times sooner. Get your files where they need to be – in the hands and hearts of consumers – sooner.
Are fast to upload for seamless UX/CX
Create super smooth transitions from one environment to another such as when linking to videos from emails or, even better, when viewing videos embedded in other documents (including encrypted multi-media PDFs). Because compression removes the barriers of speed and cost, it also helps create new customer experiences such as personalised videos sent via MMS and / or OTT (for example, via Messenger, What's App, WeChat or Snap Chat).
Use less data for sender and receiver
Everyone wins by consuming less data.
Save space and money on archiving
Different industries and countries have different data storage regulations, but whatever they are you can be sure that compressed files can radically lower the cost of archiving millions of otherwise much larger personalised videos and graphics-intensive files.
Retain high quality while being small
In most cases, the impact of super-compression on quality using iLiveIt technology is utterly acceptable for standard customer-correspondence applications, such as a personalised explainer video accompanying a monthly statement, especially when viewed on a smartphone.
Request More Information On
What Super-Compression Software Can Do For Your Business
We are happy to provide some examples and answer your questions.
Riaan Groenewald
Chief Operating Officer
iLiveIt Australia Pty Ltd
Tim Eldridge
Chief Marketing Officer
iLiveIt Australia Pty Ltd